Home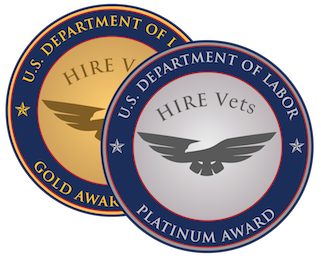 Honoring the Employers who
Hire our Nation's Heroes
The Department of Labor is establishing this program under the Honoring Investments in Recruiting and Employing American Military Veterans Act, or HIRE Vets Act. President Donald J. Trump signed the Act into law May 5, 2017.
About the Program
HIRE Vets recognizes employers who recruit and retain our heroes.
Get Involved
Learn how to get involved with veteran hiring.
DOL/VETS Newsletter Signup
Sign up for news and updates on the HIRE Vets Medallion Program.
Program Criteria
The Department of Labor will begin accepting applications for the 2019 HIRE Vets Medallion Award on January 31, 2019. View the 2019 timeline. To get started, select your company size below to view the gold and platinum award criteria or download a table with all criteria.
Small Employer Requirements
Platinum
Gold
Percentage of new hires who are veterans
10%
7%
OR
 
 
Percentage of veterans who were retained
85%
75%
AND
 
 
Veteran employee percentage
10%
7%
Veteran integration assistance programs

Must have at least TWO of the following:

Veteran organization or resource group
Leadership program
Human resources veterans' initiative
Pay differential program
Tuition assistance program

N/A
Application Fee
$90
$90
 
Download
Sample
Small
Platinum
Application
Download
Sample
Small
Gold
Application
"America's veterans are proven leaders who bring skills, dedication, and determination to our nation's workforce. To earn a HIRE Vets Medallion Award, job creators must demonstrate a solid commitment to providing veterans with the opportunity to build a meaningful career. This program recognizes a standard for excellence in veterans hiring, and helps veterans identify employers who are committed to advancing veterans in the workplace."
Alexander Acosta
United States Secretary of Labor